Regular price
Sale price
$38.00 USD
Unit price
per
Sale
Sold out
Share
Embrace the pure light and fresh hope that morning brings to the garden with the joy-filled faces of these daffodil blooms. The cascading design of these cheery blooms lift the spirit for the day ahead.

About this print:
• Shows off the rich, beautiful texture of the original painting (people are wowed by how much texture is captured on these prints!)
• Top-grade, fade-resistant inks
• Thick, archival-quality fine art paper with a slight texture and velvety matte finish
• Giclée printing process: enjoy this print for decades to come
• Eco-conscious: Sustainably-sourced paper and/or approved by the Forest Stewardship Council
• Standard sizes allow easy framing
Other notes:
The different sizes are not all the same ratio; I've carefully cropped the original image to fit each print size while preserving as much of the image as possible. All prints are unframed.
View full details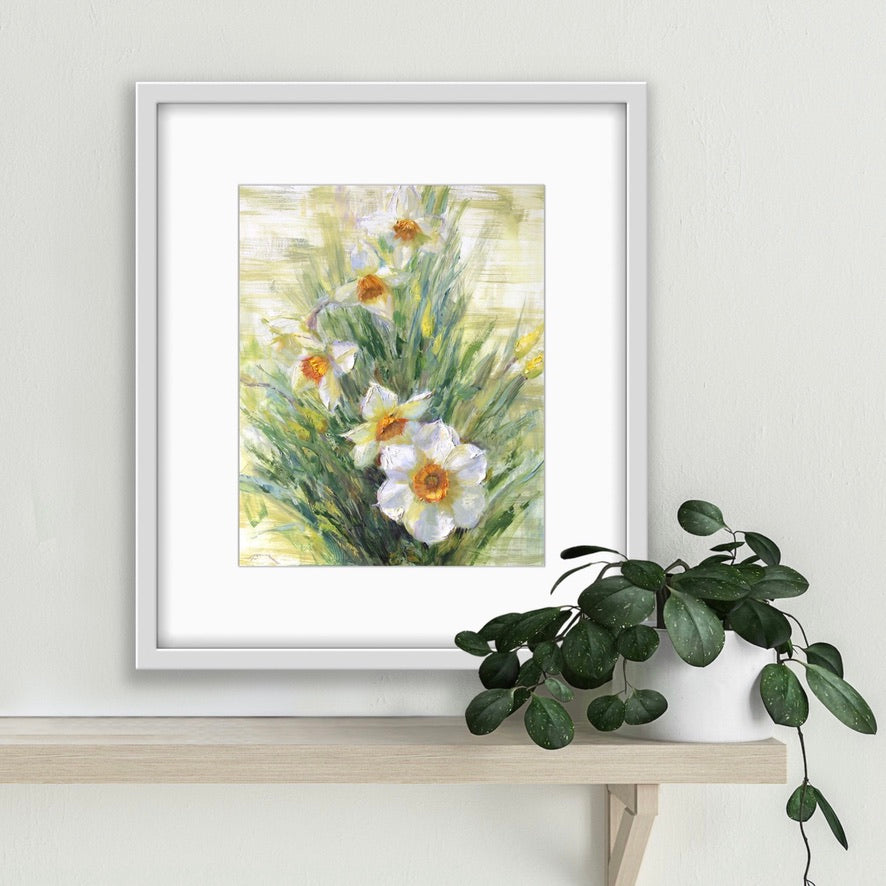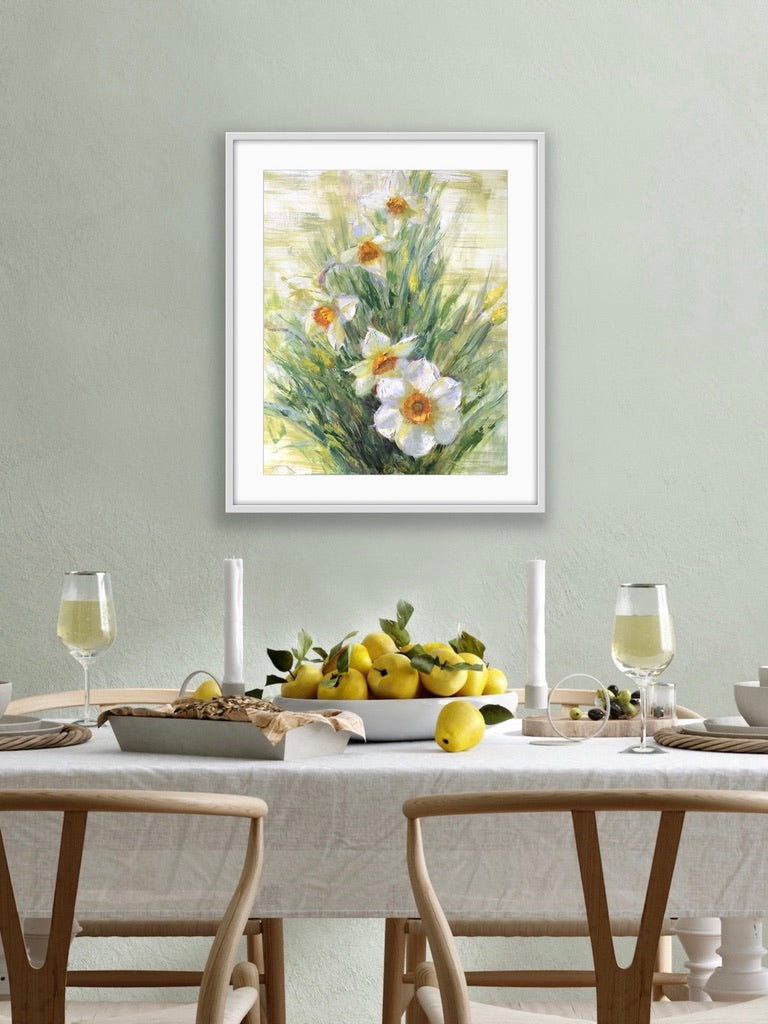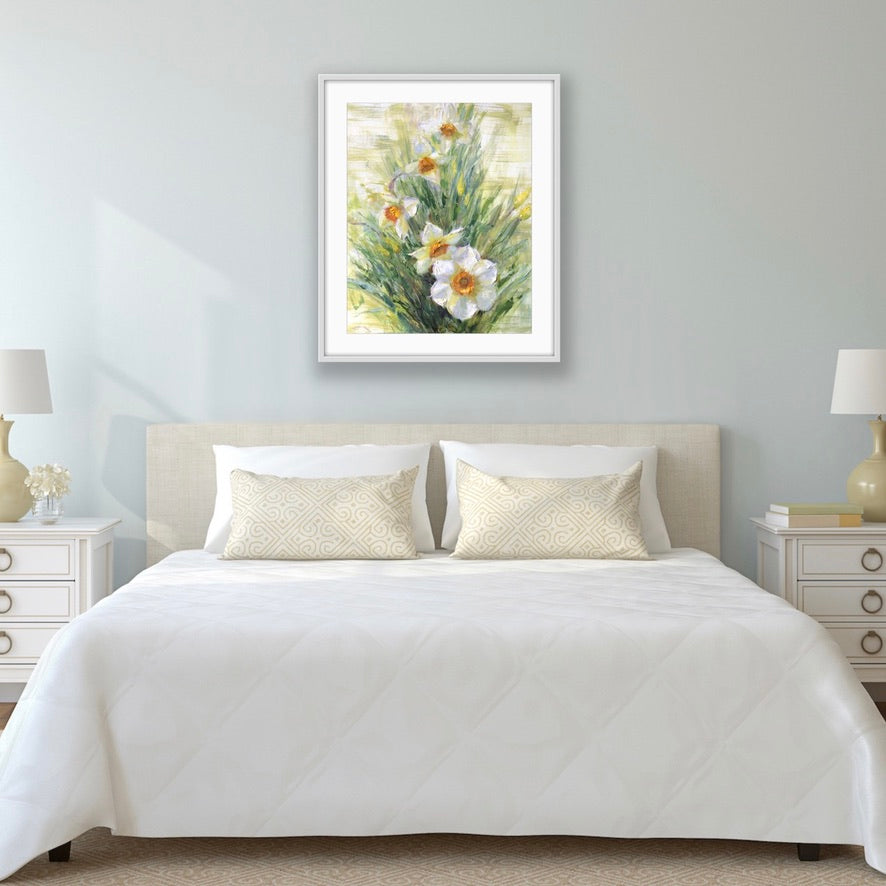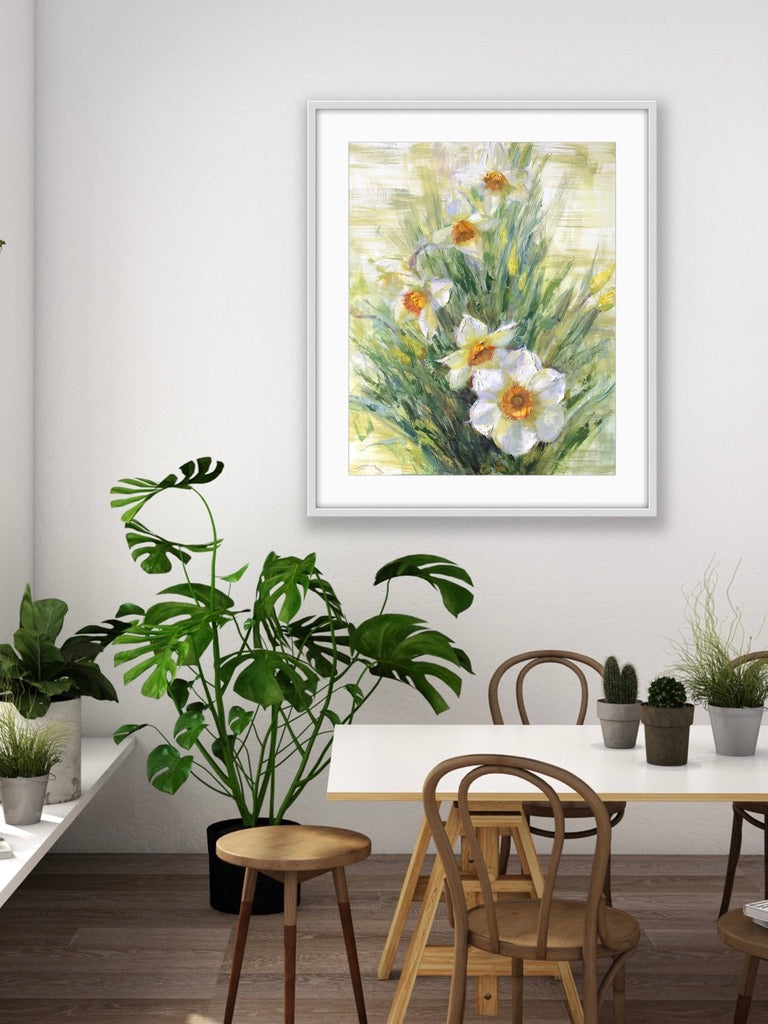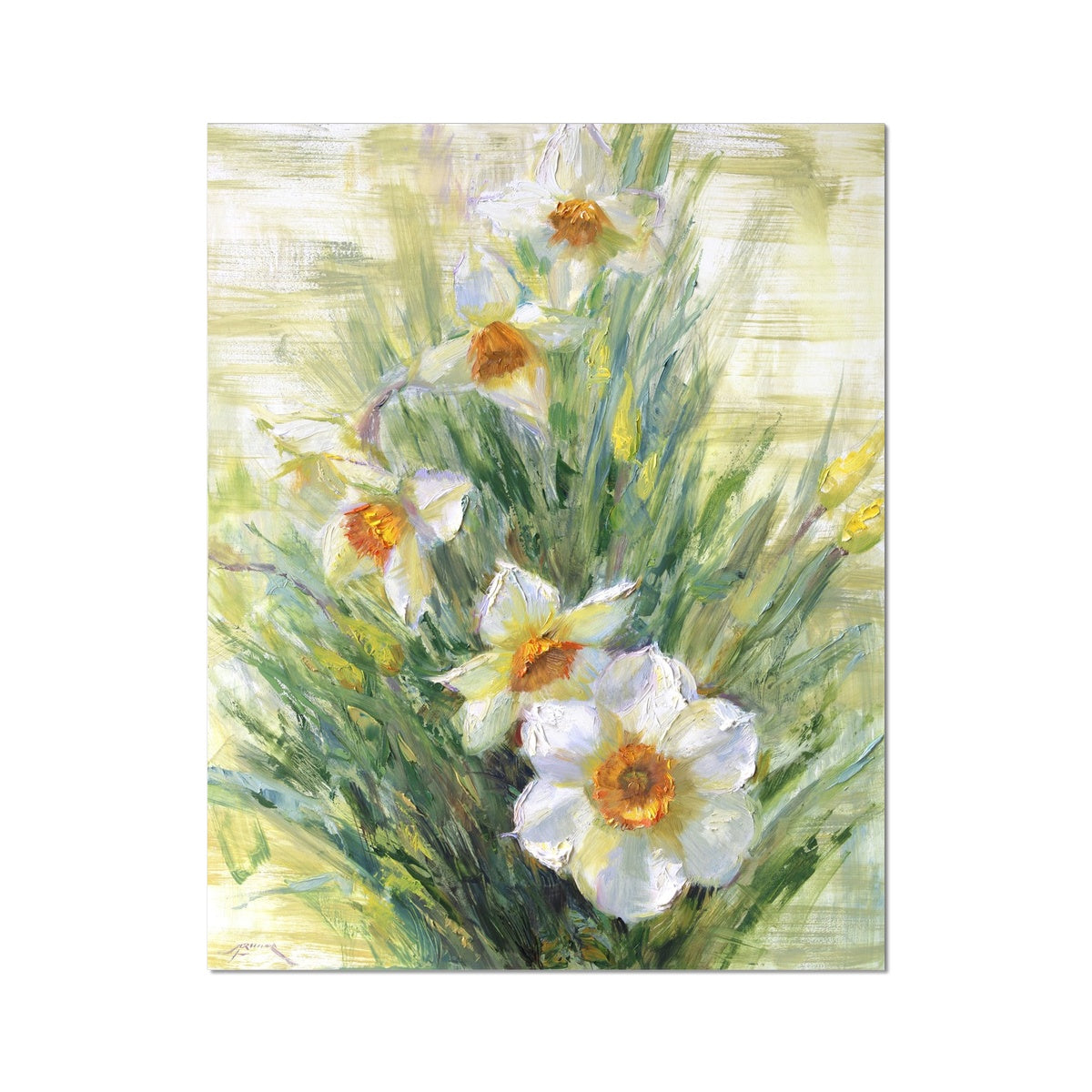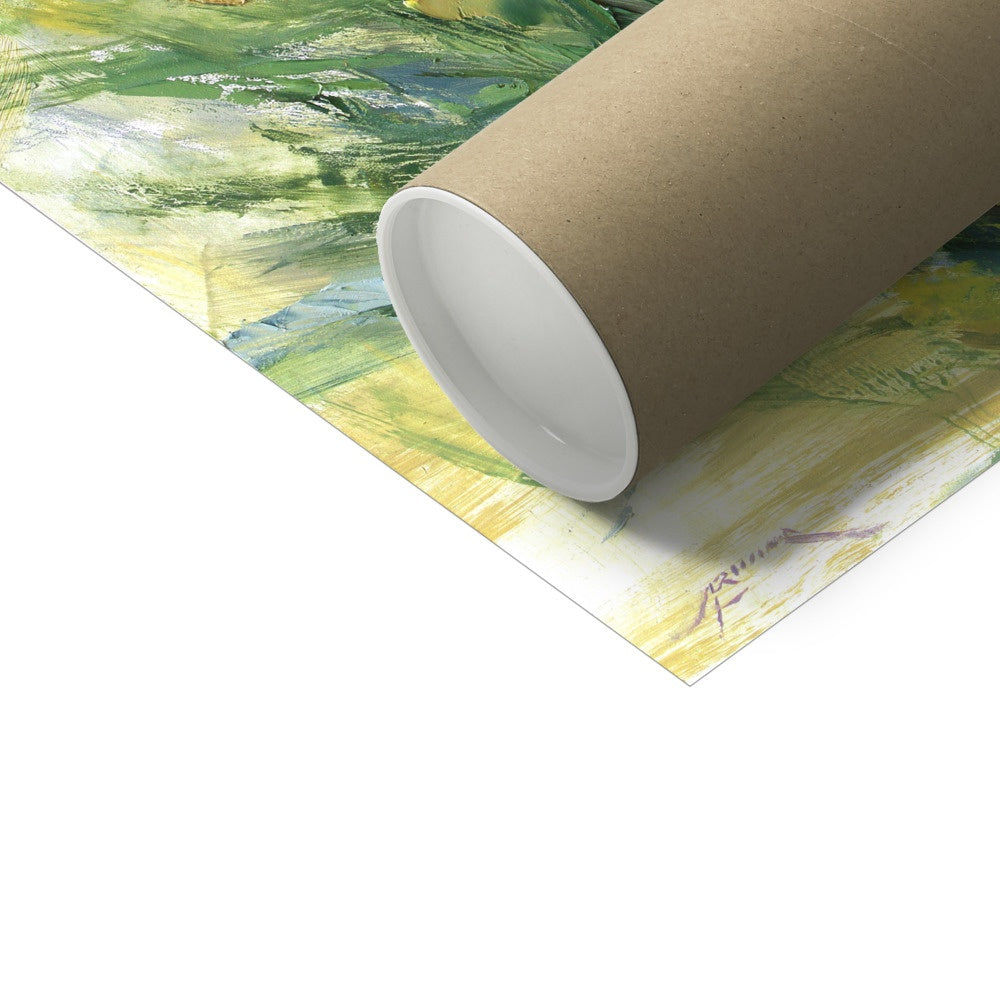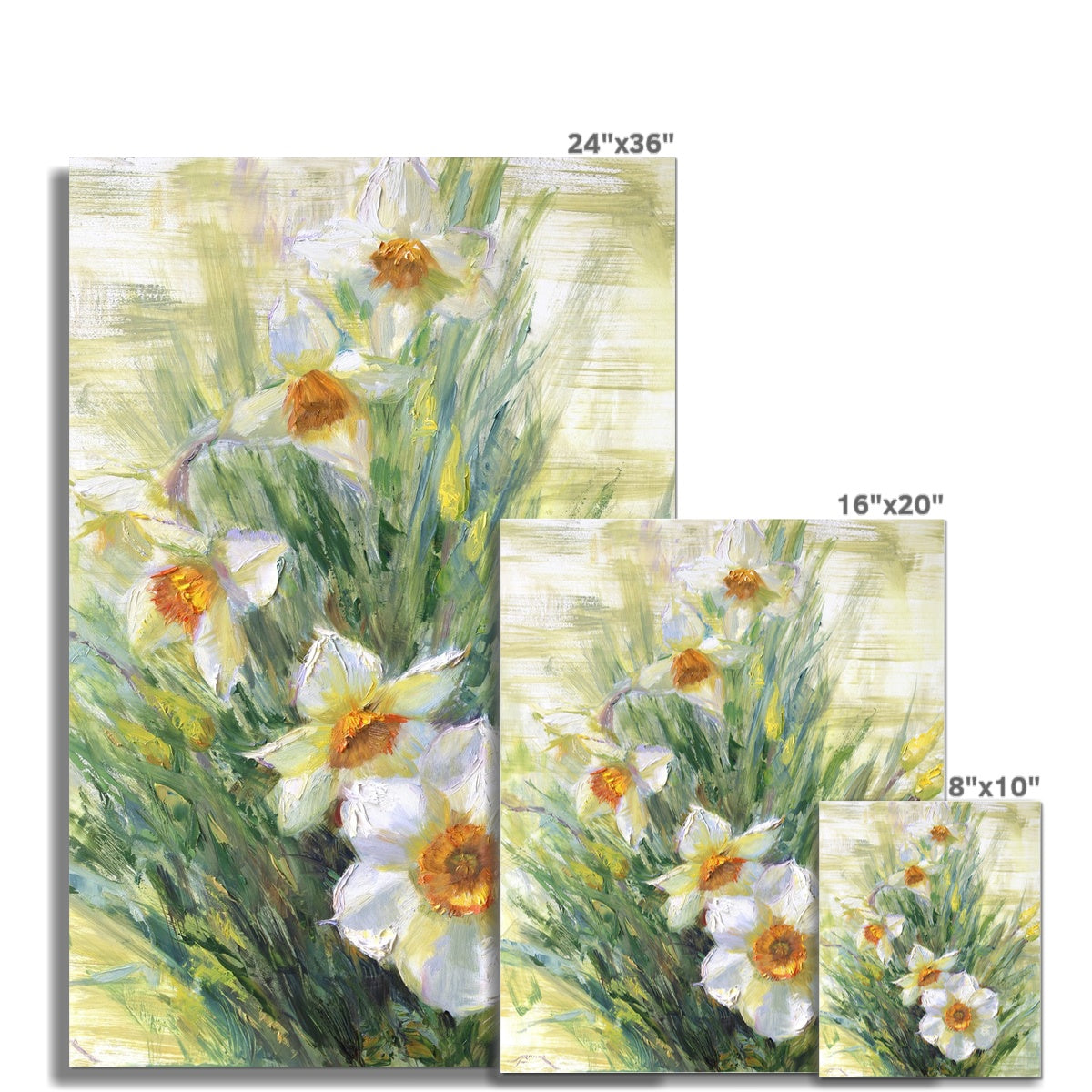 Shipping

FREE SHIPPING on all US orders. Please allow 5-10 business days for your purchase to arrive (15 business days for card sets). FREE International Shipping on all prints and card sets.

Read more about shipping
Reviews
⭐️⭐️⭐️⭐️⭐️

"Her impressionist work is striking and allows one to escape in the moment she so effectively creates. Consider yourself fortunate if you can obtain one of her extraordinary pieces."

~Tim S.

⭐️⭐️⭐️⭐️⭐️

"I just received my print from Angela and I couldn't be more happy! Angela was easy to work with and accommodating. The print is high-quality and just beautiful."

~ Denise K.

⭐️⭐️⭐️⭐️⭐️

"I love the texture of Angela's knife paintings and how they can lean a little more toward abstract while remaining a recognizable scene. The colors are so calming."

~ Stephanie H.

⭐️⭐️⭐️⭐️⭐️

"We are thrilled with our purchase. A lovely and passionate artist whose quiet confidence comes through in her painting. A very enjoyable experience. Thank you, Angela."

~ Mary Ann L.

⭐️⭐️⭐️⭐️⭐️

"Absolutely everything about the painting is great and we are definitely satisfied—it looks wonderful! And I appreciate the extra care Angela took in the packaging as well."

~ Aaron R.

⭐️⭐️⭐️⭐️⭐️

"Love it, love it, love it... Even more than I imagined I would."

~ Bonnie B.

⭐️⭐️⭐️⭐️⭐️

"Angela has an incredible talent to take the viewers to her place of imagination, but she leaves just enough detail out so the viewer has room to place their own imagination into her paintings which is such a gift. They are so memory evoking, just like Monet's paintings."

~ Jay Y.

⭐️⭐️⭐️⭐️⭐️

"Angela has a way of capturing the beauty of people and places with a dreamlike quality and quiet energy. And she uses these really expressive marks on the canvas... just stunning!"

~ Amanda H.

⭐️⭐️⭐️⭐️⭐️

"Her paintings look real but the painterly quality abstracts the reality and takes you into the realm of imagination. Lovely work!"

~ Simon H.